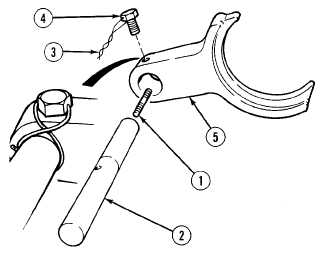 TM 9-2320-364-34-4
24-87
Compressed air used for cleaning purposes will not exceed 30 psi (207 kPa).  Use only with
effective chip guarding and personal protective equipment (goggles/shield, gloves, etc).
(2)
Dry with compressed air.
(3)
Inspect parts for breaks, obvious wear, cracks, burrs or sharp edges.
(4)
Replace all damaged parts.
c.
Assembly.
Adhesives, solvents, and sealing compounds can burn easily, can give off harmful vapors, and
are harmful to skin and clothing.  To avoid injury or death, keep away from open fire and use
in a well-ventilated area.  If adhesive, solvent, or sealing compound gets on skin or clothing,
wash immediately with soap and water.
(1)
Coat threads of screw (4) with sealing
compound.
(2)
Install shift fork (5) on lower shift rod (2)
with screw (4).  Tighten screw to 40 lb-ft
(54 N.m).
NOTE
Wire goes on lower side of shift
fork.
(3)
Install wire (3) in screw (4).
NOTE
Perform Steps (4) and (5) if stud
was removed.
(4)
Coat coarse threads of stud (1) with sealing
compound.
(5)
Install stud (1) in end of lower shift rod (2).
d.
Follow-On  Maintenance:
·
Install lower shift rod in transfer case, (Para 24-8).
END OF TASK