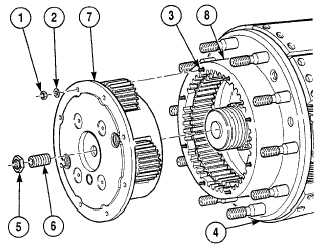 TM 9-2320-364-34-4
25-17
Materials/Parts
Adhesive (Item 1, Appendix B)
Sealing Compound (Item 56, Appendix B)
Locknut (8) (Item 217, Appendix E)
This task covers:
a.  Removal
b.   Installation
c.  Follow-On Maintenance
INITIAL SETUP
Equipment Condition
Air brake chamber removed,
(Para 25-4 or Para 25-5)
Axle air lines removed, (Para 25-30)
Tools and Special Tools
Tool Kit, General Mechanic's
(Item 240, Appendix F)
Socket, Socket Head Screw, 12 mm
(Item 206, Appendix F)
Wrench, Torque (0 to 175 lb-ft [0-237 N.m])
(Item 277, Appendix F)
Extractor, Jet (Appendix C)
25-6.  AXLE NO. 1, 2 AND 5 PLANETARY HUB GEAR REPLACEMENT.
a.
Removal.
NOTE
Studs may come off with
locknuts.
(1)
Remove eight locknuts (1) and washers (2)
from studs (3).  Discard locknuts.
NOTE
Screw may come off with nut.  If
this happens, separate screw and
nut and install screw.
(2)
Hold hub (4) and remove nut (5) from
screw (6).
(3)
Tighten screw (6) until planetary gear carrier
assembly (7) is separated from ring gear
carrier assembly (8).  Remove screw (6) from
planetary gear assembly (7).
(4)
Remove planetary gear carrier assembly (7)
from ring gear carrier assembly (8).