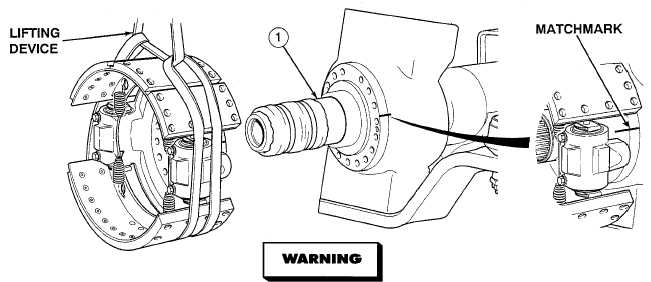 TM 9-2320-364-34-4
25-27
Materials/Parts
Cloth, Cleaning (Item 11, Appendix B)
Sealing Compound (Item 56, Appendix B)
This task covers:
a.  Removal
b.   Installation
c.  Follow-On Maintenance
INITIAL SETUP
Personnel Required
Two
Equipment Condition
Wheel hub assembly removed, (Para 25-7)
Tools and Special Tools
Tool Kit, General Mechanic's
(Item 240, Appendix F)
Adapter, Socket (3/4 in. female to 1/2 in. male)
(Item 9, Appendix F)
Respirator, Air Filter (Item 195, Appendix F)
Socket, Socket Head Screw, 14 mm
(Item 207, Appendix F)
Wrench, Torque (0 to 600 lb-ft [0-814 N.m])
(Item 278, Appendix F)
Lifting Device, Minimum Capacity 80 lbs (36 kg)
25-8.  AXLE NO. 1, 2 AND 5 BRAKE ASSEMBLY REPLACEMENT.
a.
Removal.
Parts of the brake assembly may be coated with brake dust; breathing this dust can harm
personnel.
·
Use a filter mask approved for use against asbestos dust.
·
Never use compressed air or dry brush to clean these assemblies.
·
Use an industrial type vacuum cleaner with a high-efficiency filter system to remove dust.
·
Use water and a soft bristle brush or cloth to remove dirt or mud.
NOTE
Matchmark brake assembly and pivot and spindle assembly prior to removal.
(1)
Wrap a cleaning cloth around pivot and spindle assembly (1) to protect spindle races.