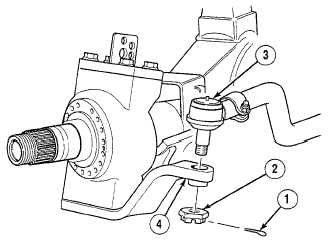 TM 9-2320-364-34-4
25-34     
25-9.  AXLE NO. 1, 2 AND 5 TIE ROD REPAIR (CONT).
e.
Installation.
Tie rod ends must be threaded
into tie rod so threads are
beyond opening under clamp or
damage to equipment will result.
NOTE
Ensure tie rod ends are installed
as noted prior to removal.
(1)
Install two tie rod ends (3) on steering
swivel arms (4).
(2)
Install castle nut (2) on each tie rod end (3).
Tighten castle nuts to 175 lb-ft (237 N.m).
NOTE
Castle nut may need to be rotated
slightly to install cotter pin.
(3)
Install cotter pins (1) in castle nuts (2).
f.
Follow-On  Maintenance:
·
Install brake assembly, (Para 25-8).
END OF TASK