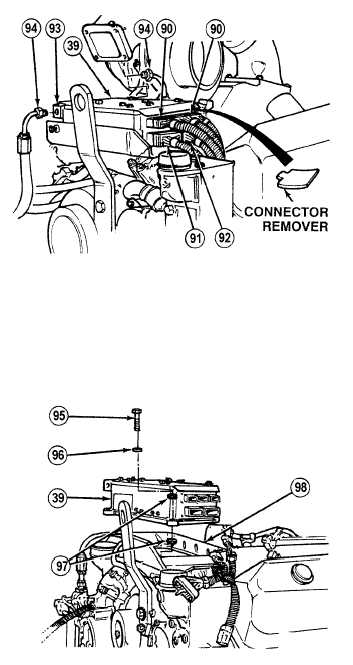 TM 9-2320-364-34-4
20-24     
20-4.  ELECTRONIC CONTROL MODULE (ECM) REMOVAL (CONT).
Remove connectors from ECM.
The ECM has plastic retainers
that may break if connectors are
improperly removed.
NOTE
Perform Steps (53) thru (60) for
DDEC II engines.
(53)
Using connector remover, disconnect two
injector harness connectors (90), engine
harness connector (91) and vehicle harness
connector MC18 (92) from ECM (39).
When removing fuel hoses, hold
DDEC fitting on ECM to
prevent cracking, or damage to
equipment may result.
(54)
Hold DDEC fitting (93) and disconnect two
fuel hose assemblies (94).
NOTE
·
Washer may or may not be
present in Step (55).
·
If mounts are damaged,
mounts and screws must be
replaced.
(55)
Remove four screws (95), washers (96), eight
mount cushions (97) and ECM (39) from
ECM bracket (98).