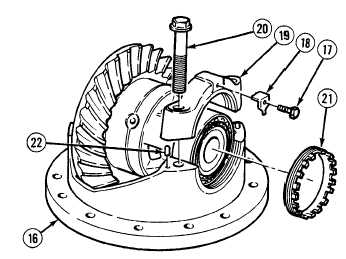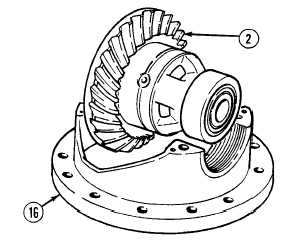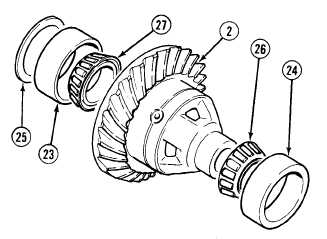 TM 9-2320-364-34-4
25-66     
25-15.  AXLE NO. 1 AND 5 DIFFERENTIAL ASSEMBLY REPAIR (CONT).
(15)
Remove screw (17) and nut lock plate (18)
from bearing cap (19).
NOTE
Bearing caps are part of a
matched assembly with the
differential housing assembly.
(16)
Remove four screws (20), two bearing
caps (19) and adjusting nut (21) from
differential housing (16).
NOTE
Perform Step (17) only if
locating pins are damaged.
(17)
Remove four locating pins (22) from
differential housing (16).
Differential and bevel gear
weighs 70 lbs (32 kg).  Attach a
suitable lifting device prior to
removal to prevent possible
injury to personnel.
(18)
With the aid of an assistant, remove
differential gear (2) from differential
housing (16).
NOTE
Tag and mark bearings and races
before removal.  Bearing races
are part of matched assemblies
with taper bearings.
(19)
Remove bearing races (23) and (24) and
adjusting shim (25) from differential
gear (2).
(20)
Measure and record width of adjusting
shim (25).  Discard adjusting shim.
(21)
Using puller, remove taper bearings (26)
and (27) from differential gear (2).