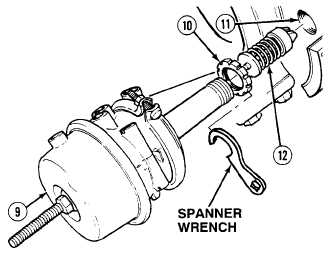 TM 9-2320-364-34-4
25-108
25-18.  AXLE NO. 3 AND 4 AIR BRAKE CHAMBER REPLACEMENT (CONT).
Spring in air brake chamber is
very powerful and is under
tension.  Failure to cage air
brake chamber before removal
will release tension of spring
abruptly and could result in
injury to personnel.
(5)
Using spanner wrench, loosen collet
nut (10).
(6)
Remove air brake chamber (9) from brake
assembly (11).
NOTE
Perform Step (7) if collet nut is
damaged.
(7)
Remove collet nut (10) from air brake
chamber (9).
(8)
Remove wedge assembly (12) from brake
assembly (11).