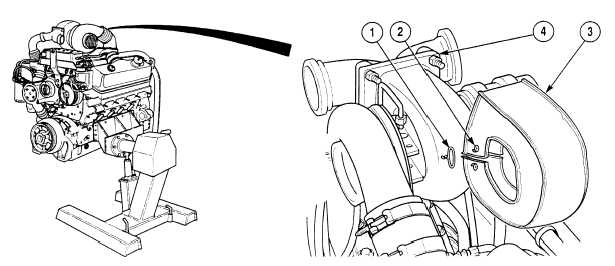 TM 9-2320-364-34-4
20-30     
This task covers:
a.  Removal
b.   Follow-On Maintenance
INITIAL SETUP
Equipment Condition
ECM removed, (Para 20-4)
Tools and Special Tools
Tool Kit, General Mechanic's
(Item 240, Appendix F)
Gloves, Heavy Duty (Item 82, Appendix F)
20-5.  TURBOCHARGER AND AIR INLET HOUSING REMOVAL.
a.
Removal.
Gloves must be used when handling turbocharger insulation blanket.  Turbocharger insulation
blanket is made of fiberglass and may cause skin irritation.  Failure to comply may result in
injury to personnel.
(1)
Cut two wires (1) on tabs (2) and insulation blanket (3) from turbocharger assembly (4).  Discard wires.