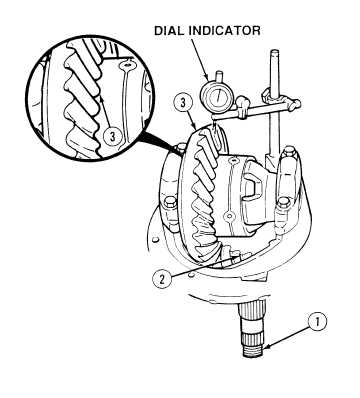 TM 9-2320-364-34-4
25-164
25-28.  AXLE NO. 3 DIFFERENTIAL ASSEMBLY REPAIR (CONT).
Make sure pinion shaft does not
move while backlash is being
measured.  Incorrect reading will
result.
(36)
Hold pinion shaft (1) so bevel gear (2) does
not move.
(37)
Turn differential gear (3) counterclockwise
until gear takes up backlash.
NOTE
Shaft from dial indicator must be
at right (90 degree) angle to face
of tooth when in contact.
(38)
Install dial indicator on face of differential
gear tooth (3).
(39)
Turn differential gear (3) clockwise until
gear stops.
NOTE
Backlash should be 0.010 to
0.013 in. (0.254 to 0.330 mm).
(40)
Record differential gear (3) to bevel gear (2)
backlash measured on dial indicator.
(41)
If backlash is not correct, repeat Steps (25)
through (38) and select thickness of
adjusting shim (60) until proper backlash is
obtained.