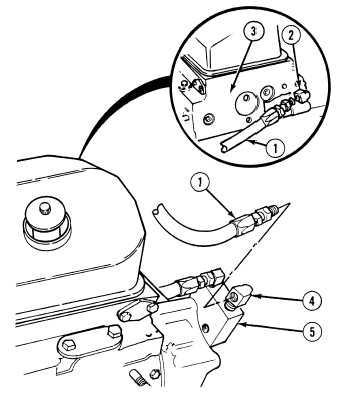 TM 9-2320-364-34-4
20-39
This task covers:
a.  Removal
b.   Follow-On Maintenance
INITIAL SETUP
Materials/Parts
Tags, Identification (Item 72, Appendix B)
Equipment Condition
Right thermostat housing removed, (Para 20-8)
Tools and Special Tools
Tool Kit, General Mechanic's
(Item 240, Appendix F)
Pan, Drain 4 gal (Item 144, Appendix F)
20-9.  SECONDARY FUEL FILTER, HEAD AND FUEL HOSES REMOVAL.
a.
Removal.
Fuel is very flammable and can
explode easily.  To avoid serious
injury or death, keep fuel away
from open fire and keep fire
extinguisher within easy reach
when working with fuel.
NOTE
·
Tag and mark hoses prior to
removal.
·
Note location and position
of fittings, elbows and tees
prior to removal.
(1)
Remove hose (1) from  elbow (2).
(2)
Remove elbow (2) from left cylinder
head (3).
(3)
Remove hose (1) from elbow (4).
(4)
Remove elbow (4) from fuel block (5).