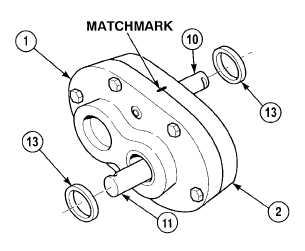 TM 9-2320-364-34-4
27-10     
27-2.  2.21:1 GEAR REDUCER REPAIR (CONT).
Masking tape, plastic shim stock
or paper must be placed over key
slot to prevent damage to seal.
(20)
Place masking tape over entire key slot on
input shaft assembly (11).
(21)
Apply lubricating oil to input shaft (11) and
inside diameter of seal (13).
(22)
Using soft faced hammer carefully slide
seal (13) over input shaft (11) and tap into
input housing (1).
(23)
Remove masking tape from key slot.
(24)
Repeat Steps (20) through (23) for output
shaft assembly (10).
END OF TASK