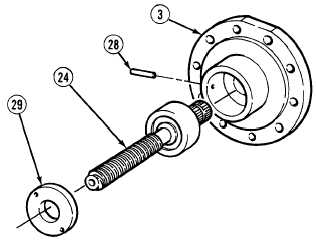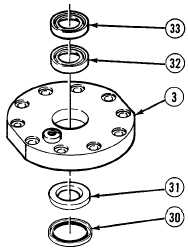 TM 9-2320-364-34-4
27-14     
27-3.  FRONT AND REAR STEERING GEAR REPAIR (CONT).
Do not drill more than 3/8 in.
deep or damage to equipment
may result.
NOTE
Perform Steps (21) and (22) only
if seals in bearing cap are leaking
or damaged.
(21)
Using 5/64 in. drill and drill press, drill out
locking pin (28) and remove retaining
nut (29) from bearing cap (3).  Discard
locking pin.
(22)
Remove actuating shaft (24) from bearing
cap (3).
NOTE
Seals and backup washer are
removed by pressing all three
seals towards inside of bearing
cap.
(23)
Remove high pressure seal (30), backup
washer (31), salt seal (32) and dirt seal (33)
from bearing cap (3).