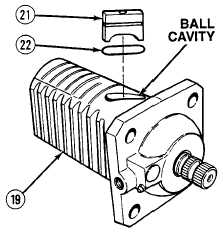 TM 9-2320-364-34-4
27-30     
27-4.  INTERMEDIATE STEERING GEAR REPAIR (CONT).
Insure that both halves of ball
guides are pushed into the ball
cavity entirely.  Failure to do so
will result in ball guides being
pushed out of the piston
assembly with possible loss of
steel balls.
(18)
Install both halves of ball guides (23) in
ball cavity in piston assembly (19).
Do not attempt to backout the
actuating shaft from the piston
assembly while installing steel
balls in the ball cavity.  This will
cause steel balls to bind on the
actuating shaft and shaft damage
may occur.
(19)
While installing the 24 steel balls (24) in
the ball guides (23), slowly turn the
actuating shaft (25) and bearing cap (18)
into the piston assembly (19) until all steel
balls (24) are installed.
(20)
Apply hydraulic oil to preformed
packing (22).
(21)
Install preformed packing (22) on plug (21).
(22)
Install plug (21) in ball cavity in piston
assembly (19) until flush with contour of
piston assembly (19).