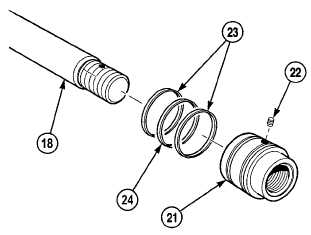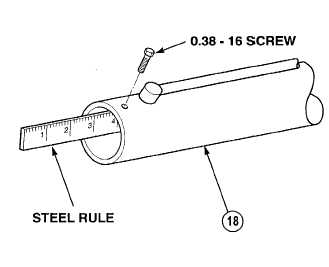 TM 9-2320-364-34-4
28-16     
28-3.  LIFT CYLINDER REPAIR (CONT).
(5)
Apply hydraulic oil to preformed
packing (24) and two backup rings (23) and
install inside piston (21).
(6)
Install piston (21) on cylinder rod (18),
aligning setscrew holes.
Adhesives, solvents, and sealing
compounds can burn easily, can
give off harmful vapors, and are
harmful to skin and clothing.  To
avoid injury or death, keep away
from open fire and use in well-
ventilated area.  If adhesive,
solvent, or sealing compound
gets on skin or clothing, wash
immediately with soap and
water.
(7)
Apply sealing compound to threads of
setscrew (22) and install in piston (21) and
cylinder rod (18).
Ensure 0.38-16 screw is properly
installed in cylinder rod.  Failure
to install screw properly may
result in preformed packing in
cylinder cap being damaged as
cylinder cap is installed.
(8)
Hold edge of steel rule against the inside of
the cylinder rod (18) and against setscrew
hole.
(9)
Install a 0.38-16 screw into setscrew hole
until screw touches edge of steel rule.
(10)
Back out 0.38-16 screw one flat and
remove steel rule.