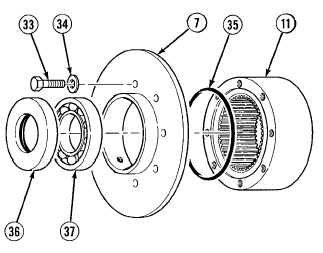 TM 9-2320-364-34-4
28-34     
28-7.  HOIST ASSEMBLY REPAIR (CONT).
(1)
Clean all metal parts in drycleaning solvent.
Compressed air used for cleaning purposes will not exceed 30 psi (207 kPa).  Use only with
effective chip guarding and personal protective equipment (goggles/shield, gloves, etc).
Failure to comply may result in injury to personnel.
(2)
Dry all metal parts with compressed air.  Allow bearings to air dry.
(3)
Inspect each part for nicks, burrs, scratches or dents.
(4)
Replace damaged parts.
c.
Assembly.
NOTE
Large slot in bearing faces down.
(1)
Install bearing (37) and oil seal (36) in drum
end (7).
Adhesives, solvents, and sealing
compounds can burn easily, can
give off harmful vapors, and are
harmful to skin and clothing.  To
avoid injury or death, keep away
from open fire and use in
well-ventilated area.  If adhesive,
solvent, or sealing compound
gets on skin or clothing, wash
immediately with soap and water.
(2)
Apply adhesive to drum end (7) and install
preformed packing (35) on drum end (7).
(3)
Apply sealing compound to threads of eight
screws (33).
(4)
Install drum end (7) on ring gear (11) with
eight washers (34) and screws (33).  Tighten
screws to 216 lb-in (24 N.m).