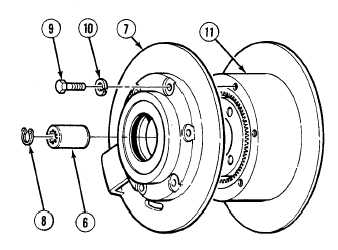 TM 9-2320-364-34-4
28-37
Adhesives, solvents, and sealing compounds can burn easily, can give off harmful vapors, and
are harmful to skin and clothing.  To avoid injury or death, keep away from open fire and use
in a well-ventilated area.  If adhesive, solvent, or sealing compound gets on skin or clothing,
wash immediately with soap and water.
(21)
Apply adhesive to face of drum end (7) and
position drum end on ring gear (11).
(22)
Apply sealing compound to threads of six
screws (9).
(23)
Install drum end (7) on ring gear (11) with
six lockwashers (10) and screws (9).
Tighten screws to 31 lb-ft (42 N.m).
Use care when installing
retaining rings.  Retaining rings
are under tension and can act as
projectiles when released
causing injury to personnel.
NOTE
·
Perform Step (24) if snap
ring was removed.
·
Do not tip drum or coupling
will fall out.  Coupling is
installed on brace spline.
(24)
Install retaining ring (8) inside coupling (6).
(25)
Install coupling (6) in drum end (7).