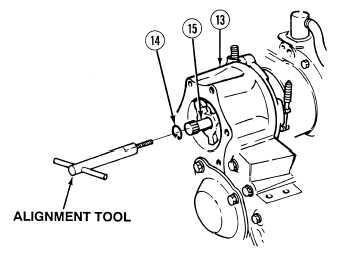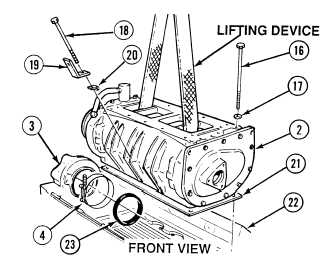 TM 9-2320-364-34-4
20-48     
20-13.  BLOWER ASSEMBLY REMOVAL (CONT).
Use care when removing
retaining rings.  Retaining rings
are under tension and can act as
projectiles when released
causing injury to personnel.
(6)
Install alignment tool and remove retaining
ring (14) from blower drive shaft (15).
Discard retaining ring.
(7)
Remove blower drive shaft (15) from
flywheel housing (13).
(8)
Remove four screws (16) and washers (17)
from blower (2).
(9)
Remove six screws (18), bracket (19) and
retainers (20) from blower (2).
·
Blower weighs 71 lbs
(32 kg).  Attach suitable
lifting device prior to
removal to prevent possible
injury to personnel.
·
When installing lifting
device, keep hands clear of
rotors to prevent injury to
personnel.
Lift blower straight up or damage to equipment may occur.
(10)
Using a lifting device and the aid of an assistant, remove blower (2) and gasket (21) from engine (22).
Discard gasket.
(11)
Remove clamp (4) and seal (23) from blower drive assembly (3).  Discard seal.
b.
Follow-On  Maintenance:
·
Repair blower assembly, (Para 21-2).
·
Remove engine brake retarder, (Para 20-14).
END OF TASK