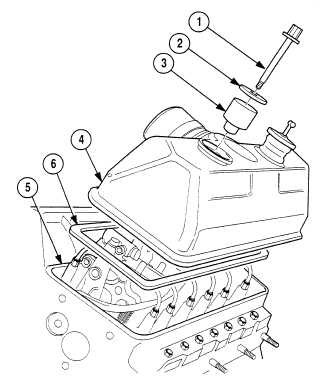 TM 9-2320-364-34-4
20-45
This task covers:
a.  Removal
b.   Follow-On Maintenance
INITIAL SETUP
Equipment Condition
Fuel pump removed, (Para 20-10)
Tools and Special Tools
Tool Kit, General Mechanic's
(Item 240, Appendix F)
20-11.  ROCKER COVER AND GASKET REMOVAL.
a.
Removal.
NOTE
Right and left rocker covers are
removed the same way.  Left side
shown.
(1)
Remove two screws (1), washers (2) and
mounts (3) from rocker cover (4).  Discard
mounts.
(2)
Remove rocker cover (4) from cylinder
head (5).
(3)
Remove gasket (6) from rocker cover (4).
Discard gasket.
(4)
Repeat Steps (1) through (3) to remove
right rocker cover.
b.
Follow-On  Maintenance:
Repair rocker cover, (Para 20-43).
Remove tachometer drive assembly, (Para 20-12).
END OF TASK