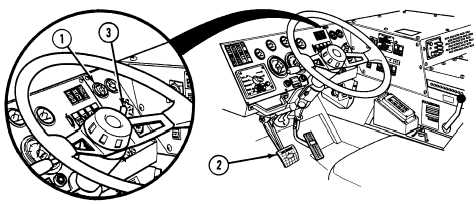 TM 9-2320-364-10
2-175
2-16.  BRAKES.
a.
Operate Service Brakes.
Rapid operation repeatedly of service brakes will consume
compressed air supply and cause automatic spring brake
application.  Failure to follow proper service brake operating
procedures may cause serious injury or death to personnel.
(1)
Ensure the AIR PRESS gage (1) reads at least 100 psi (690 kPa).
(2)
Push down and hold the service brake pedal (2) as needed to slow or stop
truck.
b.
Operate Trailer Handbrake.
NOTE
When service brake pedal is pressed, both truck and
trailer brakes will be applied.
Pull down trailer handbrake control (3) during trailer connect/disconnect
operations, if required, to apply trailer brakes only.  Release trailer handbrake
control to release trailer brakes.