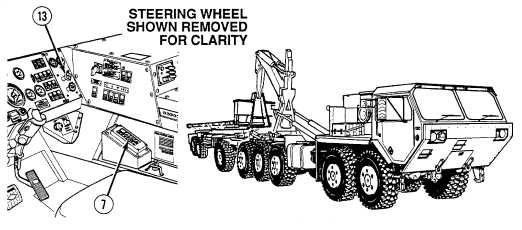 TM 9-2320-364-10
2-310     
2-29.  LOAD HANDLING SYSTEM (LHS) (CONT).
(29)
Release the parking brake (13).
(30)
Set the transmission range selector (7) to Drive (D).
(31)
Move the truck forward approximately 5 ft. (1.5 m).
(32)
Apply the truck parking brakes (13) and set the transmission range
selector (7) to Neutral (N).
Never drive with NO TRANS light illuminated.  An
illuminated lights means LHS is not fully stowed.  The load
could break loose causing serious injury or death to personnel.
NOTE
Overload warning light will come on when main frame
cylinders are fully extended or fully retracted and joystick
is being activated.