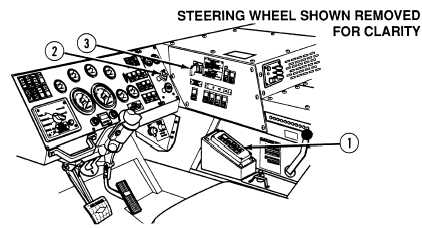 TM 9-2320-364-10
2-337
2-30.  MATERIAL HANDLING CRANE (MHC) OPERATION
(MANUAL CONTROLS).
a.
Prepare Crane For Use.
(1)
Start engine (Para 2-15).
NOTE
·
If the ground is not level, outrigger jacks can be used to level
the truck on up to a seven percent side slope.
·
If outrigger pads do not stay in firm contact with ground, crane
functions will not operate.
(2)
Position truck on level ground so all loading and unloading can be done
from one position.
(3)
Put transmission range selector (1) in Neutral (N) position and pull
PARKING BRAKE control knob (2) out.
Hydraulic selector switch must be in OFF position before
moving selector switch to prevent equipment damage.
(4)
Ensure the hydraulic selector switch (3) is in OFF position.