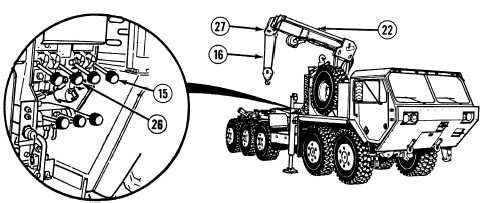 TM 9-2320-364-10
2-349
When operating two control levers at the same time, if one
function is held wide open and "dead-headed" (i.e. cylinder is
fully extended) and another function is operated, the second
function can operate at a greater than normal speed, which
could cause loss of control and serious injury or death to
personnel.
·
Keep hook block at least 2 ft. (0.61 m) from end of boom.  If
hook block hits end of boom it may damage cable or hook block
and crane will lose control functions.  Lower hook block and
wait six seconds for power to return, then check crane for
damage.
·
Do not jerk TELESCOPE control lever or load may bounce
causing possible damage to crane or load and causing overload
shutdown system to activate.
·
Do not let cable unwind and become slack or cable may get
tangled on drum and cause damage to drum.
NOTE
TELESCOPE and HOIST control levers should be
operated at same time.
(9)
Move TELESCOPE control lever (26) to OUT position to extend boom
(22) while moving HOIST control lever (15) to DOWN position to pay out
hoist cable (16).  This prevents hook block from contacting boom nose (27).