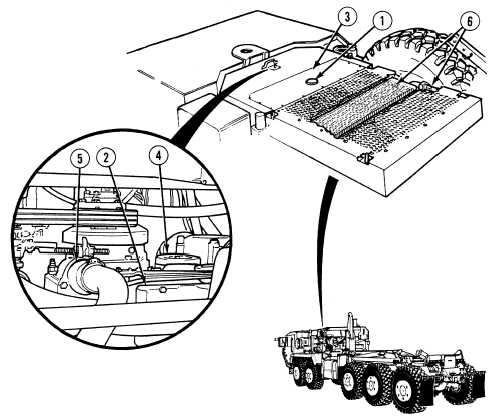 TM 9-2320-364-10
1-32     
1-17.  COOLING SYSTEM.
The pressure-type cooling system protects the engine by removing the heat generated
during combustion process.  Pressure within the cooling system is limited by a pressure
release in the radiator filler cap (1).  The hot coolant flows from the engine (2) to the
radiator tank (3) and through the radiator core where a stream of air removes heat.  This
stream of air is drawn through the core by the fan.  A water pump (4) draws coolant
from the radiator and pushes it through the engine, repeating the cooling process.
Thermostats (5) mounted in each coolant outlet elbow, remain closed until the coolant
approaches a predetermined temperature when they open.  When coolant temperature
drops below thermostat rating, the thermostats close.  An air vent line between the
radiator and water pump inlet removes any air trapped in the engine when the cooling
system is being filled.  A heat exchanger is mounted in the rear radiator tank for cooling
the transmission oil.  An air to oil cooler (6) mounted atop the core, cools the hydraulic
oil.