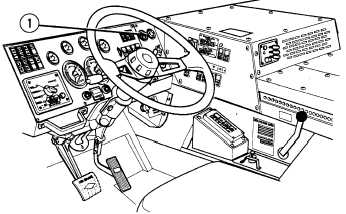 TM 9-2320-364-10
2-715
2-48.  OPERATING TRUCK IN MUD, SAND OR SNOW.
·
Before backing truck in mud, sand or snow, mud flaps must be
pinned on stowage hook located on mud flap bracket.  If mud
flap is not pinned, damage may result.
·
Blowing sand may scratch glass surfaces.  Glass surfaces should
remain covered as much as possible in these conditions to
prevent scratching.
NOTE
Driving in mud can degrade truck braking and speed up
brake shoe wear.  If braking worsens while operating in
mud, dry brakes by driving truck approximately 500 ft.
(153 m) with service brakes frequently applied.  This must
be done with brake drums totally out of mud so that
drying action can take place.  If adequate braking is not
restored by drying brakes, notify Unit Maintenance.
(1)
Leave glass surfaces covered if not needed for operations.  Extra care
should be taken when cleaning glass surfaces to prevent scratching
surfaces.
NOTE
·
Principles of driving in sand can also be applied to driving in
mud.
·
The best time to drive on sand is at night or early morning when
sand is damp.  Damp sand gives better traction.
(2)
Check the air filter restriction indicator (1) often.