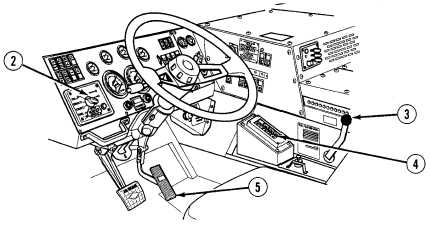 TM 9-2320-364-10
2-716     
2-48.  OPERATING TRUCK IN MUD, SAND OR SNOW (CONT).
(3)
Set the CTIS switch (2) to desired position.  Refer to Table 1-28.
(4)
Set the transfer case shift lever (3) to LO.
(5)
Start slowly.  Do not spin the wheels when starting to move truck.
(6)
Set the transmission range selector (4) to 2 or 1, as needed, for added traction.
(7)
Do not straddle sand mounds or drive on sides of two sand mounds.  Loose
sand will not support truck on steep slopes.
(8)
Keep throttle control (5) steady after truck reaches desired speed.
(9)
Turn the truck slowly when on loose sand or mud.
(10)
Steer the truck straight up and down hills if possible.