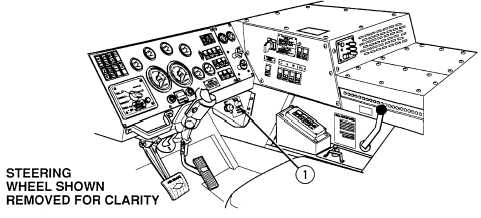 TM 9-2320-364-10
2-730     
2-51.  OPERATING TRUCK IN EXTREME COLD
ENVIRONMENT –26 DEGREES F TO –50 DEGREES F
(–32 DEGREES C TO –46 DEGREES C).
Do not touch extremely cold metal (below –26 degrees F [–32
degrees C]).  Bare skin may freeze to cold metal and cause
injury to personnel.
NOTE
·
Principles for operating in cold environment apply to extreme
cold environment.  Refer to Para 2-50 for operating in cold
environment.
·
Before operating truck in extreme cold environment make sure
arctic kits are installed and truck has been prepared as described
in FM 9-207.
(1)
Operate arctic heater (Para 2-28).
NOTE
·
Repeat Steps (2) and (3) sequence up to four times.
·
If engine fails to start after five tries, refer to troubleshooting
(Chapter 3).
(2)
Press and hold ether start switch (1) for five seconds, release and wait five
seconds.  Perform this sequence three times.