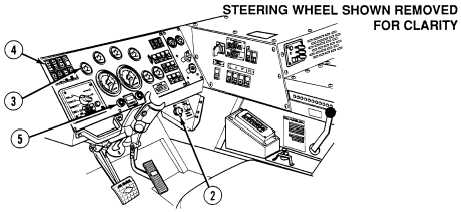 TM 9-2320-364-10
2-731
NOTE
·
Watch instrument panel closely.  If any unusual readings occur,
stop truck and shut off engine.  Check immediately.
·
If engine fails to start, wait 15 seconds before next start attempt
to allow starter motor to cool.
(3)
Turn engine switch (2) to START for about 15 seconds.  Release engine
switch.  Engine switch will spring back to ON position.  Oil pressure
indicator (3) and oil pressure lamp (4) may light and buzzer (5) may sound
briefly.
NOTE
·
If transmission fluid temperature is below –20 degrees F  (–29
degrees C) TRANS CHECK and DO NOT SHIFT  light will
illuminate, and transmission will only operate in Neutral (N)
Range.
·
CTIS system should be in the ON position only when  parked,
during starts in extremely cold environments.   CTIS will adjust
tire pressure during the warm-up period while truck is parked.
(4)
Run engine for five minutes, then increase engine speed to 1200 to 1500
rpm until transmission DO NOT SHIFT light goes out.