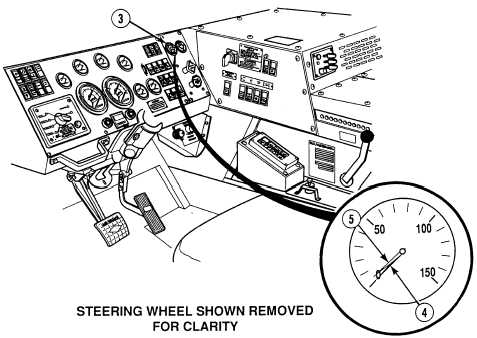 TM 9-2320-364-10
2-772     
2-57.  EMERGENCY PROCEDURES (CONT).
(e)
Refer to troubleshooting as soon as possible (Para 3-3).
·
If air pressure gage reads approximately 45 psi (310 kPa) or
less, spring brakes will be fully applied automatically causing
possible loss of control.  Serious injury or death may result.
·
Maximum braking requires 90 psi (621 kPa) or more air
pressure.  If air pressure drops below 90 psi (621 kPa), braking
ability will be reduced.  If air pressure continues to drop air
system is malfunctioning.  Brake failure may result causing
injury or death to personnel.
(4)
If both red and green pointers (4) and (5) are dropping on AIR PRESS
gage (3) and reading is 60 psi or less (414 kPa or less), do the following: