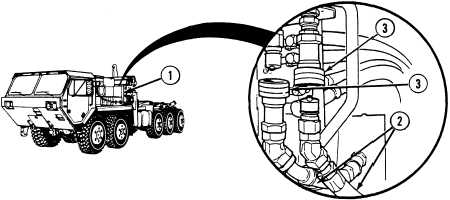 TM 9-2320-364-10
2-782     
2-57.  EMERGENCY PROCEDURES (CONT).
Hydraulic fluid is under great pressure.  Engines on both
trucks must be shut off while disconnecting hydraulic lines,
Steps (17) through (21).  Failure to do so could cause serious
injury or death to personnel.
To prevent hydraulic contamination, keep hydraulic quick
disconnects clean or damage to hydraulic system may result.
NOTE
Quick disconnects are located on the back of the LHS
box.
(17)
Connect hydraulic lines (2) on both trucks at quick disconnects (3) located
on the back of the LHS control box (1).