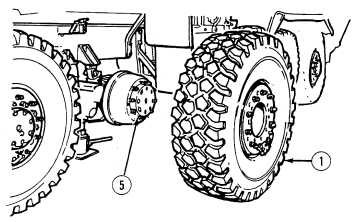 TM 9-2320-364-10
3-62     
3-5.  TIRE REPLACEMENT (CONT).
·
Jack is under heavy pressure, keep hand clear while raising or
lowering jack slowly to avoid injury to personnel.
·
Do not lower jack too quickly as tire could fall causing serious
injury or death.
If jack must be raised, shut off truck prior to moving under
truck.
NOTE
·
Jack may have to be raised slightly to accommodate the spare
tire.
·
The extension handle may be placed near the bottom of the tire
to either side and raised up to move the tire forward on hub and
studs.
(4)
Slide spare tire (1) onto studs (5).