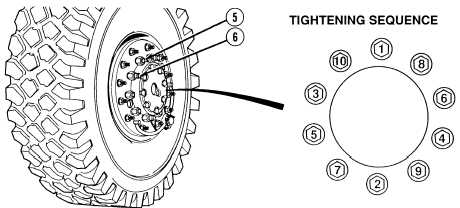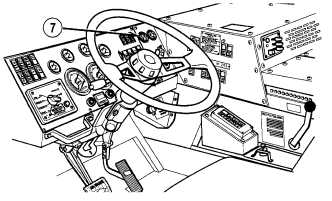 TM 9-2320-364-10
3-63
NOTE
Studs and lug nuts on both sides of truck have right-hand
threads.  Rotate lug nuts counterclockwise to loosen,
clockwise to tighten.
(5)
Install ten lug nuts (6) finger tight on studs (5).
(6)
If truck was shut off, start engine and build air pressure to 125 psi (862 kPa)
(Para 2-15).
NOTE
When mission is completed, take truck to nearest Unit
Maintenance to have the lug nuts properly tightened to
450 to 550 lb-ft. (610 to 746 N.m).
(7)
Using air wrench and 1-1/2 in. socket, tighten ten lug nuts (6) using
sequence
(8)
Allow air pressure gage (7) to reach 120 psi (827 kPa) and repeat Step (7).