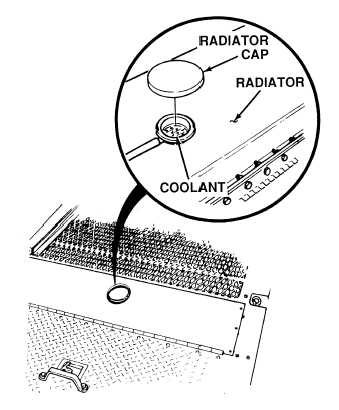 TM 9-2320-364-20-2
2-1079
(1)   Push down on radiator cap and slowly
turn to left to relieve pressure from
radiator.
(2)   Start engine (TM 9-2320-364-10).
Allow engine to warm to operating
temperature of 190

°

F (88

°

C).
(3)   Inspect coolant flow in radiator.
(a)   If coolant does not flow,
perform Steps (4) and (5) below
and replace thermostat(s)
(Para 6-7).
(b)   If coolant does flow, thermostat(s)
is OK.
(4)   Turn OFF ENGINE switch.
(5)   Install radiator cap on radiator.
THERMOSTAT TEST
Do not remove the radiator cap when the engine is hot; steam and hot coolant can escape and burn
personnel.
Use a clean, thick waste cloth or like material to remove the cap.  Avoid using gloves.  If hot water
soaks through gloves, personnel could be burned.