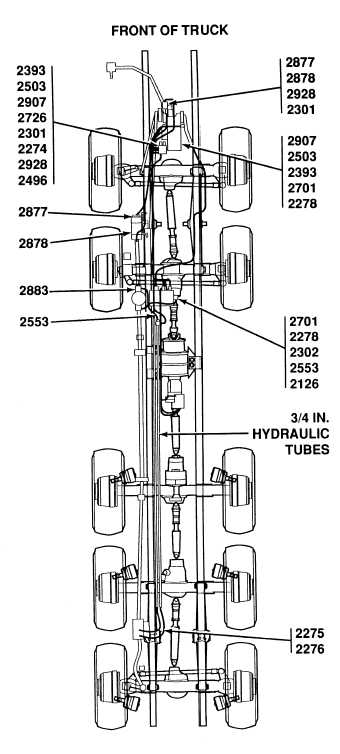 TM 9-2320-364-20-3
2-2945
(1)   Start engine (TM 9-2320-364-10).
(2)   While assistant turns the steering
wheel right and left, check power
steering hoses and fittings listed in
Table 2-60 for leaks and damage.
(a)   If hoses are leaking or damaged,
tighten fittings, turn OFF ENGINE
switch and replace hoses as
necessary (Para 14-14 and
schematic Fig 2-71).
(b)   If hoses are free of leaks and/or
damage, components are OK.
(3)   Turn OFF ENGINE switch.
VISUAL INSPECTION
Maintain adequate distance from moving steering parts or serious injury to personnel may result.
Table 2-60.  

Steering System Hoses
HOSE NO.
FROM
TO
2278
2393
2726
2301
2928
2877
2878
2274
2275
2276
2883
2553
Steering oil reservoir
Steering pump
Hose 2928
Steering manifold
Front steering gear
Front steering gear
Front steering gear
Steering manifold
Power steering tube
Rear steering gear
Power steering tube
Steering oil filter
Steering pump
Steering manifold
Steering oil reservoir
Front steering gear
Hose 2726
Intermediate steering
Intermediate steering
Power steering tube
Rear steering gear
Power steering tube
Steering oil filter
Steering oil reservoir