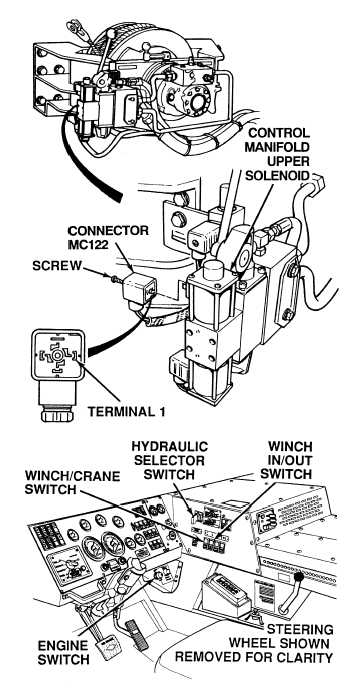 TM 9-2320-364-20-3
2-2829
(1)   Loosen screw and disconnect
connector MC122 from control
manifold upper control solenoid.
(2)   Connect positive (+) multimeter lead
to wire 1730 at harness connector
MC122, terminal 1.
(3)   Connect negative (–) multimeter lead
to a known good ground.
(4)   Turn ON ENGINE switch
(TM 9-2320-364-10).
(5)   With the aid of an assistant, hold
WINCH IN/OUT switch in the IN
position.
(a)   If 22 to 28 vdc are not
present, perform Steps (6)
through (8) below and go to
Step 2 of this Fault.
(b)   If 22 to 28 vdc are present,
wire 1730 is OK.  Perform Step
(6) below and go to Step 3
of this Fault.
(6)   Turn OFF ENGINE switch.
(7)   Connect connector MC122 to control
manifold upper solenoid.
(8)   Tighten screw and coat head of
connector screw with adhesive.
VOLTAGE TEST
Remove all jewelry such as rings, dog tags,
bracelets etc.  If jewelry or tools contact
positive electrical circuits, a direct short
may result.  Damage to equipment, injury or
death to personnel may occur.
Adhesives, solvents, and sealing compounds
can burn easily, can give off harmful
vapors, and are harmful to skin and clothing.
To avoid injury or death, keep away from open
fire and use in a well-ventilated area.  If
adhesive, solvent, or sealing compound gets
on skin or clothing, wash immediately with
soap and water

.