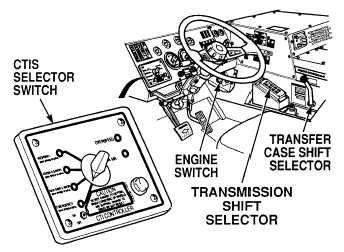 TM 9-2320-364-20-4
2-2983
(1)   Set the CTIS rotary selector
switch to EMERGENCY
(TM 9-2320-364-10).
(2)   Set transmission selector to
Neutral (N).
(3)   Shift transfer case shift lever
to Low (L).
(4)   Start engine and build air pressure to
125

±

4 psi (861

±

28 kPa).
(5)   Check differential lockup cylinder
air lines and fittings for damage,
crimps and leaks (Para 12-36 and
schematic Fig 2-73).
(a)   If damage, crimps or
leaks are present, tighten loose
connections, turn OFF ENGINE
switch and replace air lines as
necessary (Para 12-36 and
schematic Fig 2-73).
(b)   If no damage, crimps or leaks are
present, turn OFF ENGINE switch
and go to Step 2 of this Fault.
VISUAL INSPECTION
Do not stand between wheels when engine is operating.  Movement of vehicle can cause injury or death
to personnel.