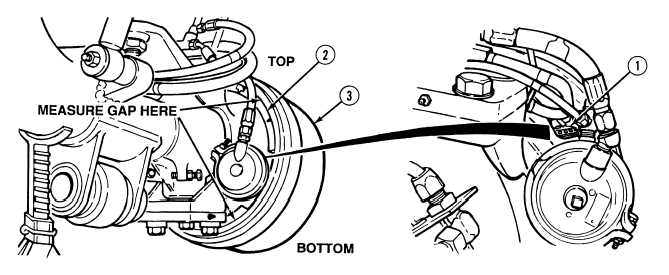 TM 9-2320-364-20-4
12-11
This task covers:
a.  Adjustment
b.   Follow-On Maintenance
INITIAL SETUP
Equipment Condition
Engine OFF, (TM 9-2320-364-10)
Wheels chocked, (TM 9-2320-364-10)
Wheel and tire removed, (TM 9-2320-364-10)
Brakes caged (No. 3, 4 and 5 axles only),
(TM 9-2320-364-10)
Tools and Special Tools
Tool Kit, General Mechanic's:  Automotive
(Item 74, Appendix G)
Gage, Feeler (Item 27, Appendix G)
12-3.  BRAKE SHOE ADJUSTMENT.
a.
Adjustment.
NOTE
·
Turn both adjusting bolts the same amount of clicks to center brake shoes evenly.
·
Turn top adjusting bolt in counterclockwise direction to adjust top brake shoe.  Turn bottom
adjusting bolt in clockwise direction to adjust bottom brake shoe.
·
It is normal to experience initial high breakaway torques on some adjusting bolts.  After
initial adjustment subsequent torques will be normal.
(1)
Tighten adjusting bolts (1) one click at a time until both brake shoes (2) are fully seated against brake
drum (3).