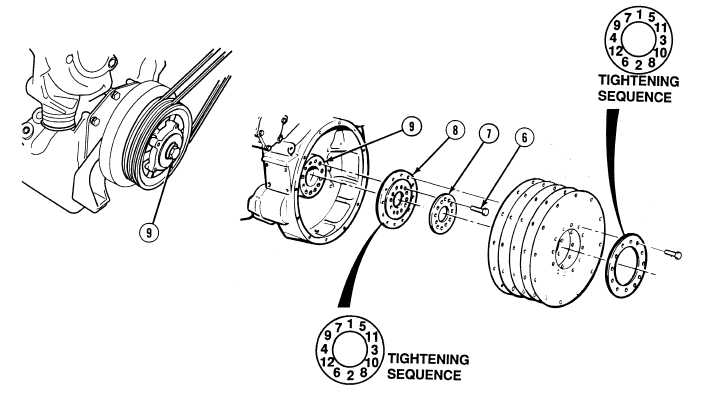 TM 9-2320-364-34-2
3-104     
3-13.  FLEX PLATE AND HUB REPLACEMENT (CONT).
b.
Installation.
Adhesives, solvents, and sealing compounds can burn easily, can give off harmful vapors, and
are harmful to skin and clothing.  To avoid injury or death, keep away from open fire and use
in a well-ventilated area.  If adhesive, solvent, or sealing compound gets on skin or clothing,
wash immediately with soap and water.
(1)
Apply International Compound No. 2 to threads of 12 screws (6).
(2)
Align screw holes in hub body (8) and mounting plate (7) with crankshaft (9) and install 12 lockscrews (6).
In sequence shown tighten screws (6) to 50 lb-ft (68 N.m).
(3)
With the aid of an assistant, hold front of crankshaft (9), mark position of screws (6) and tighten an
additional 90 degrees to 100 degrees in sequence shown.