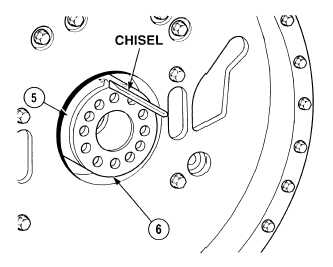 TM 9-2320-364-34-2
3-107
Use care not to damage
crankshaft when removing
crankshaft sleeve.
NOTE
Perform Steps (4) and (5) if
crankshaft sleeve is installed and
is being replaced.
(4)
Using a chisel and hammer, split crankshaft
sleeve (5).
(5)
Pry crankshaft sleeve (5) from
crankshaft (6).
b.
Cleaning/Inspection.
(1)
Inspect sealing surface on crankshaft or
sleeve for signs of wear or grooving.  If
crankshaft or sleeve surface is not smooth, a
sleeve should be installed or existing sleeve
should be replaced.
(2)
Remove high spots from crankshaft sealing
surface with abrasive stone before sleeve
installation.
(3)
If a sleeve is being replaced, clean off old
adhesive from crankshaft.