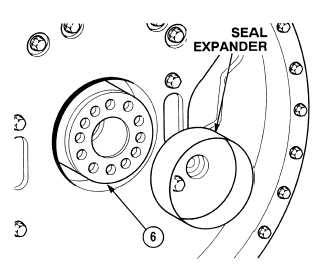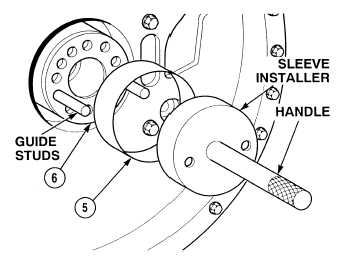 TM 9-2320-364-34-2
3-108     
3-14.  REAR OIL SEAL/SLEEVE REPLACEMENT (CONT).
c.
Installation.
Adhesives, solvents, and sealing
compounds can burn easily, can
give off harmful vapors, and are
harmful to skin and clothing.  To
avoid injury or death, keep away
from open fire and use in a
well-ventilated area.  If adhesive,
solvent, or sealing compound
gets on skin or clothing, wash
immediately with soap and water.
NOTE
Perform Steps (1) through (3) if
crankshaft sleeve is being
installed.
(1)
Coat mating surface of crankshaft (6) with
sealing compound where crankshaft sleeve
(5) is to be installed.
(2)
Position guide studs in end of crankshaft (6).
(3)
Position crankshaft sleeve (5) on sleeve
installer and using sleeve installer and J8092
handle, install crankshaft sleeve (5) on
crankshaft (6) until sleeve installer bottoms
on crankshaft.
NOTE
·
If crankshaft sleeve is
installed, an oversize seal
must be used.
·
Perform Step (4) for
oversize seal.
·
Perform Steps (5) and (6)
for standard size seal.
(4)
Position seal expander on crankshaft (6).