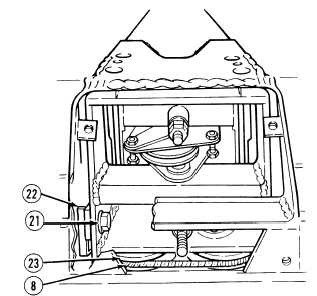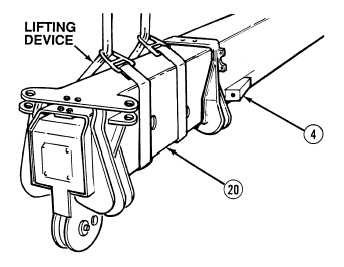 TM 9-2320-364-34-3
16-14     
16-3.  BOOM ASSEMBLY REPAIR (CONT).
(7)
Loosen screw (21) and move cable
keeper (22) up away from cable (8) and
roller guide (23).
Inner-mid section weighs 1,000
lbs (454 kg).  Attach suitable
lifting device prior to removal to
prevent injury to personnel.
(8)
Attach lifting device on inner-mid
section (20).
NOTE
·
Move boom extension
slowly.
·
Reposition lifting device as
required to keep inner-mid
section centered.
(9)
With the aid of an assistant, guide inner-mid
section (20) two ft (61 cm) out of base
section (4).