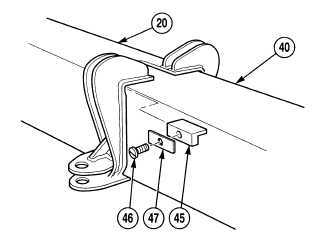 TM 9-2320-364-34-3
16-45
Adhesives, solvents, and sealing
compounds can burn easily, can
give off harmful vapors, and are
harmful to skin and clothing.  To
avoid injury or death, keep away
from open fire and use in a well-
ventilated area.  If adhesive,
solvent, or sealing compound
gets on skin or clothing, wash
immediately with soap and
water.
NOTE
Perform Steps (102) and (103) if
wear pad has shim and screw.
(102)
Apply sealing compound to threads of
screw (46).
NOTE
Shims are installed on sides of
boom wear pads to locate each
section on center of its mating
surface.  Shim thicknesses
should be selected to provide a
maximum of 0.125 in. (3.1 mm)
total side clearance between
boom bottom plate edge and
wear pad.
(103)
Install shim (47) on wear pad (45) with
screw (46).
Do not stick fingers under section
to install wear pads, or injury to
hands may result.
(104)
Lift outer-mid section (40) and install two
wear pads (45) in inner-mid section (20).
(105)
Apply grease to two wear pads (45).