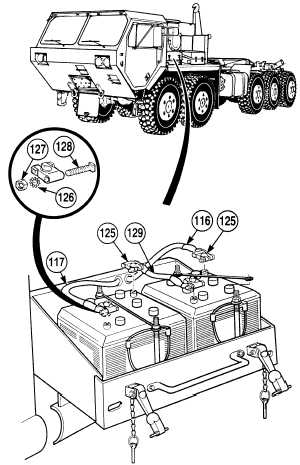 TM 9-2320-364-34-3
18-21
·
Upon installation of all wires
and cables, ensure no contact is
made with battery terminals or
other wires and cables.  Strap
wires as required to prevent
injury or death to personnel or
damage to equipment.
·
Battery acid (electrolyte) is
extremely harmful.  Always
wear safety goggles and rubber
gloves, and do not smoke when
performing maintenance on
batteries.  Injury will result if
acid contacts skin or eyes.  
Wear rubber apron to prevent
clothing being damaged.
·
Remove all jewelry such as
rings, dog tags, bracelets, etc.  If
jewelry or tools contact positive
electrical circuits, a direct short
may result.  Damage to
equipment, injury or death to
personnel may occur.
NOTE
Refer to TM 9-6140-200-14 for
more specific details on battery
maintenance.
(114)
Install negative battery post terminal (125)
to battery cable 1138 (116) with
lockwasher (126), nut (127) and screw (128).
(115)
Install positive post terminal (129) to battery
cable 1139 (117) with lockwasher (126),
nut (127) and screw (128).