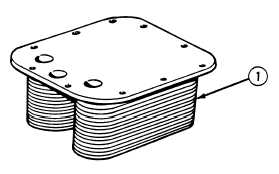 TM 9-2320-364-34-4
20-166
20-57.  AFTERCOOLER INSPECTION (CONT).
Compressed air used for
cleaning purposes will not
exceed 30 psi (207 kPa).  Use
only with effective chip guarding
and personal protective
equipment (goggles/shield,
gloves, etc).  Failure to comply
may result in injury or death to
personnel.
(8)
Dry oil cooler core (1) with compressed air.
(9)
Replace oil cooler core (1) if any leaks are
detected.
(10)
Apply lubricating oil to oil cooler core (1).
END OF TASK