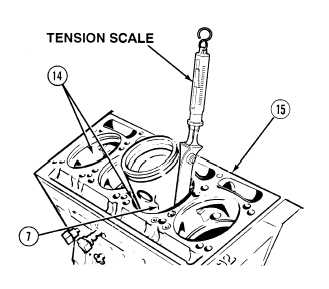 TM 9-2320-364-34-4
20-181
NOTE
Ensure to match piston to
proper cylinder liner.  Pistons
being reinstalled were marked
during removal.  Match
markings.
(23)
With cylinder liner (14) installed in engine
block (15) and with the aid of an assistant
hold piston skirt (7) upside down in cylinder
liner (14) and attach tension scale to feeler
gage set and check clearance in four places
90 degrees apart.
NOTE
·
Feeler gage must be down
inside cylinder liner
approximately 3 in.
(7.62 cm).
·
Clearance will be 0.001 in.
(0.025 mm) greater than
feeler gage thickness when it
is withdrawn with pull of 6
lbs (2.7 kg).  If clearance is
not between minimum of
0.0051 in. (0.1295 mm) and
maximum of 0.0120 in.
(0.3048 mm), replace piston
skirt.
(24)
Select feeler gage thickness requiring a pull
of 6 lbs (2.7 kg).
(25)
If any binding between piston skirt and
liner is noted, remove burrs with honing
stone and repeat step (24).