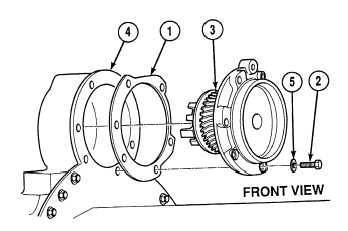 TM 9-2320-364-34-4
20-288
Materials/Parts
Grease (Item 21, Appendix B)
Sealing Compound (Item 56, Appendix B)
Copper Washer (Item 34, Appendix E)
Gasket (Item 103, Appendix E)
This task covers:
a.  Installation
b.   Follow-On Maintenance
INITIAL SETUP
Equipment Condition
Aftercooler installed, (Para 20-86)
Tools and Special Tools
Tool Kit, General Mechanic's
(Item 240, Appendix F)
Indicator, Dial, Set w/Magnetic Base
(Item 98, Appendix F)
Wrench, Torque (0 to 175 lb-ft [0-237 N.m])
(Item 277, Appendix F)
20-87.  BLOWER DRIVE ASSEMBLY INSTALLATION.
a.
Installation.
(1)
Apply light coat of grease to both sides of gasket (1).
Adhesives, solvents, and sealing compounds can burn easily, can give off harmful vapors, and
are harmful to skin and clothing.  To avoid injury or death, keep away from open fire and use
in a well-ventilated area.  If adhesive, solvent, or sealing compound gets on skin or clothing,
wash immediately with soap and water.
(2)
Coat threads of two screws (2) with sealing
compound.
(3)
Install gasket (1) and blower drive assembly
(3) in rear end plate (4) with two copper
washers (5) and screws (2).
(4)
Tighten two screws (2) 25 to 30 lb-ft (34 to
41 N.m).