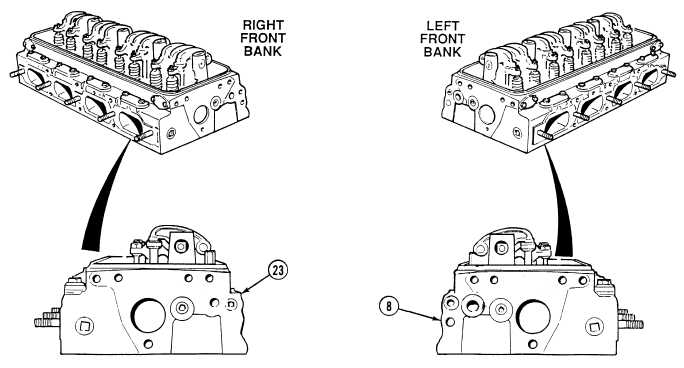 TM 9-2320-364-34-4
20-290
Materials/Parts
Compound, No. 2, International
(Item 17, Appendix B)
Gasket (2) (Item 93, Appendix E)
Gasket, Seal Strip (Item 129, Appendix E)
Seal, Water (2) (Item 622, Appendix E)
Shims (Item 645, Appendix E)
This task covers:
a.  Installation
b.   Follow-On Maintenance
INITIAL SETUP
Personnel Required
Two
Equipment Condition
Blower drive support installed, (Para 20-87)
Tools and Special Tools
Tool Kit, General Mechanic's
(Item 240, Appendix F)
Studs, Guide (Item 233, Appendix F)
Wrench, Torque (0 to 175 lb-ft [0-237 N.m])
(Item 277, Appendix F)
Lifting Tees (Appendix C)
Lifting Device, Minimum Capacity
400 lbs (182 kg)
20-88.  CYLINDER HEAD INSTALLATION.
a.
Installation.
NOTE
Both cylinder heads are installed the same way.  Make sure to install properly.
(1)
Note differences between left cylinder head (8) and right cylinder head (23).