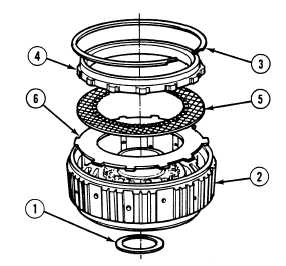 TM 9-2320-364-34-4
23-79
b.
Disassembly.
(1)
Remove thrust bearing race (1) from rear
hub of fifth clutch housing (2).
Use care when removing
retaining rings.  Retaining rings
are under tension and can act as
projectiles when released causing
injury to personnel.
(2)
Remove retaining ring (3) and backplate (4)
from fifth clutch housing (2).
NOTE
Make sure internal-splined plates
and external-tanged plates are
tied together and tagged in order
of removal.
(3)
Remove five internal-splined plates (5) and
five external-tanged plates (6) from fifth
clutch housing (2).