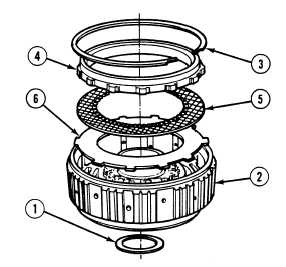 TM 9-2320-364-34-4
23-84     
23-14.  FIFTH CLUTCH REPAIR (CONT).
Make sure all personnel stand
clear when releasing pressure on
spring compressor.  Retaining
ring can cause personal injury if
not properly seated in retaining
ring groove.
(11)
Slowly release pressure on spring
compressor.
(12)
Remove clutch spring compressor from
fifth clutch housing (2).
(13)
Remove fifth clutch housing (2) from press
and position on clean level surface.
NOTE
Assemble clutch plates so cone of
each plate faces same direction as
cone of adjacent plate.
(14)
Soak external-tanged plates (6) and
internal-splined plates (5) in hydraulic oil
for minimum of two minutes.
(15)
Alternately install five external-tanged
plates (6) and five internal-splined
plates (5), beginning with external-tanged
plate.
Use care when installing
retaining rings.  Retaining rings
are under tension and can act as
projectiles when released
causing injury to personnel.
(16)
Install backplate (4) and retaining ring (3)
in fifth clutch housing (2).
(17)
Apply grease on thrust bearing race (1) and
install on rear hub of fifth clutch
housing (2).