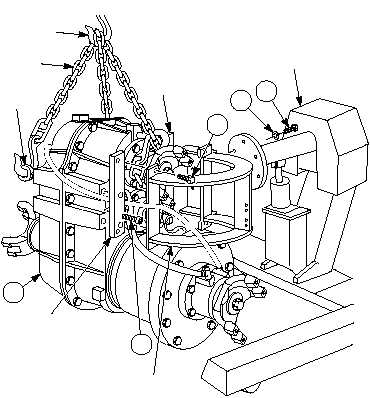 TM 9-2320-364-34-4
24-3
b.
Removal.
Transfer case weighs 1,500
lbs (681 kg).  Attach suitable
lifting device before moving
to prevent possible injury or
death to personnel.
(1)
Install two lifting eyes to transfer
case (1).
(2)
Install lifting device to transfer
case (1).
Ensure that upward lifting force
is applied to the holding fixture
before screws are removed or
transfer case may shift downward
causing personal injury or
damage to equipment.
(3)
Remove four screws (5) from holding
fixture and transfer case adapter kit.
(4)
Position transfer case (1) on wooden
blocking or secure fixture.
(5)
Remove four socket head screws (2) and
two transfer case adapter kit plates from
transfer case (1).
(6)
Remove four screws (3), washers (4), and
holding fixture from engine maintenance
stand.
(7)
Remove lifting device and two lifting eyes
from transfer case (1).
c.
Follow-On  Maintenance:
·
Install transfer case in container, (Para 8-6).
END OF TASK
LIFTING
DEVICE
CHAIN
TRANSFER
CASE
ADAPTER KIT
PLATE
TRANSFER
CASE
ADAPTER
KIT
PLATE
HOLDING
FIXTURE
MAINTENANCE
STAND
3
4
LIFTING
EYE
5
1
2