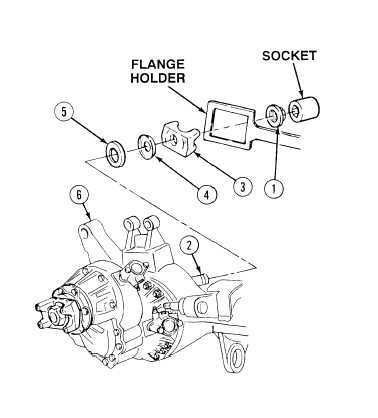 TM 9-2320-364-34-4
25-145
(14)
Install oil seal (5) in axle housing (6).
(15)
Install dust cover (4) on flange assembly (3)
NOTE
Flange assembly should be
positioned so large openings of
flange assembly align with slots
of output shaft. This will ease
staking of nut.
(16)
Position flange assembly (3) on output
shaft (2).
Adhesives, solvents, and sealing
compounds can burn easily, can
give off harmful vapors, and are
harmful to skin and clothing.  To
avoid injury or death, keep away
from open fire and use in a well-
ventilated area.  If adhesive,
solvent, or sealing compound
gets on skin or clothing, wash
immediately with soap and
water.
(17)
Coat threads of output shaft (2) with
adhesive.
(18)
Apply adhesive to face of flange assembly (3)
where adjusting nut (1) seats.
(19)
With the aid of an assistant and using flange
holder and socket, install adjusting nut (1)
on output shaft (2).  Tighten adjusting nut to
680 to 796 lb-ft (922 to 1,079 N.m).
(20)
Inspect to see that adhesive has squeezed out
around entire outside diameter of nut (1).  If
adhesive is not visible around entire outside
diameter of nut, remove and discard nut and
repeat Steps (18) and (19).
(21)
Stake adjusting nut (1) in two slots of
output shaft (2) directly 180 degrees apart.
c.
Follow-On  Maintenance.
·
Install axle shaft, (Para 25-25).
END OF TASK